Hiroshima Files* was founded in 1937 in its namesake city - a city known in Japan as the best source of high quality files. They started to make precision nut and fret file in 1983 after getting requests from major Japanese instrument manufacturers. Since then they have become the file of choice for many of the major builders around the world. Think of a guitar company and you're probably thinking of a company that uses their Uo-Chikyu brand files.
We supply all of their Uo-Chikyu brand precision fret and nut files.
* The actual company name in Japanese is Hiroshima Yasuri.
26 Diamond Series
The Diamond Series of fret crowning files are all double-sided, with a coarse 175 grit on one side and a 300 grit on the other for a finer finish. They come in three sizes: the 1R has a small radius for narrow frets, the 2R for medium frets, and the 3R has a large radius for jumbo frets.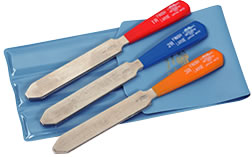 Fret Files
セット商品
3本セットコード番号

Code number
26-0000
フレットの頭を整えるヤスリで、一本で粗削りと仕上げができます(Large側が粗削り、Finish側が仕上げになります)。新たに先端部に溝を彫り、フレットを固定する機能を持たせました(意匠登録済)。先端部の溝をフレットに当て、持ち手上部をハンマーで叩く事により、フレットを固定することができます。
1R

形状

Shape

コード番号

Code number

全長

Full length

幅×厚み

W×T

1箱入数
26-0001
175
16.0×4.0
10本
2R

コード番号

Code number

全長

Full length

サイズ

Size

1箱入数
26-0002
175
16.0×4.0
10本
3R

コード番号

Code number

全長

Full length

サイズ

Size

1箱入数
26-0003
175
16.0×4.0
10本
■使用例